FAQ
Here to answer questions, solve the chillest problems, and make sure you're good to go.
SHIRTS
How do I know my size?
Shirts are cut true to size and are meant to fit better than your dad's Hawaiian. Our size chart should help you find your spirit size. If you're still torn, shoot us a message. We want you looking and feeling great out there.
We have two different fits for however you want to get down.
Regulaxed - None of that boxy shape, wizard sleeve play where you can't see or lick your elbow. These shirts are better fitting than your typical Hawaiian shirt a little more relaxed than your every day shirt.
Slim City - Roll up your sleeves and rock this fine fit in the city, on the beach, at a brunch or out at night. Not too slim, not too regular.
How should I wash these shirts? Will they shrink?
Most of our shirts are made with a soft, breathable fabric called rayon. Silky and strong, they feel so good on. You can make some serious moves in them. As explained on the tags though – play it cool, hand wash cold, hang to dry, no bleach just beach. After you hand wash and hang to dry, shake it out gently (referring to the shirt). Doing more, like putting it in a washing machine with jeans and towels might be too aggressive for this smooth fabric so we advise against it. While throwing these shirts in a dryer is as easy as getting a hangover, we once again advise against it. Would you want to tumble around in a hot dryer after being out having the time of your life? Nah, you probably just want to hang, regroup and go at it again.
We also have cotton shirts. As explained on their tags – play it cool, machine wash cold, hang to dry. When it comes to cotton, you're basically wearing nature. Cotton is a natural fabric and a relatively easy one to maintain. Like your favorite DJ spins groovy tunes at a pool party, you can spin your cotton garment in a washing machine. After machine-washing it, you have a couple options. You can choose to either machine dry or hang dry your button-buddy. We all love the heat, but keep in mind that high temperatures in the dryer could put cotton garments at risk of shrinkage. Yes I said the "s" word – sorry, ladies. You might also get some wrinkles (classic cotton), but nothing a little ironing can't handle.
Do the shirts fit women?
Of course. Have you seen the pics? As an inevitable side effect of creating a bloomin' remix of the guys' classic Hawaiian shirt, girls look great in them too.
Depending on how she likes her shirts to fit, we'd recommend sizing her shirts similarly to how she'd expect one of your hoodies or t-shirts to fit. But remember guys, just like with those hoodies and college tees, be careful letting her wear yours. You may never see it again.

How does the sunglass loop work?
Simple as putting on flip flops. You end up dartying (act of partying during the day) longer than you thought, so long that it actually gets dark outside and you realize you don't want to be the guy wearing sunglasses at night. Nor do you want them to break when you're breaking out your best/worst moves. Or you just want to look deeply into a lovely lady's eyes for a second.  Whatever the scenario, keep your sunglasses in the front pocket loop and have even less to worry about.
What are these buttons?
These aren't your everyday plastic button, these are fine, finished coconuttons. The lighter ones are from baby coconuts. Treat them nicely. We attach an extra to the shirt in case one doesn't survive an adventure of yours.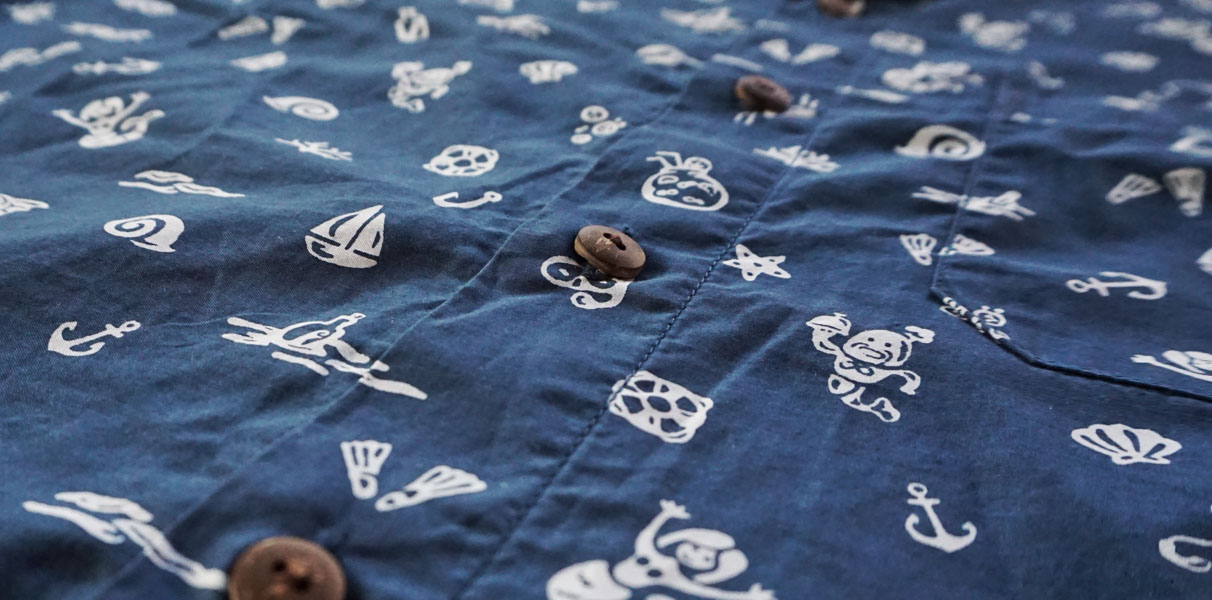 How are the shirts made?
We first explore the whole island of Bali to find the coolest, highest quality fabrics out there and work on fun designs with young talented local artisans. Then, the shirts themselves are made fresh in a beautiful little factory surrounded by Bali rice fields. Working conditions are good here, with lots of time taken off to participate in village ceremonies and hang with their families.
We hope you feel great knowing that the KF shirts you rock were made with the best of energy and a strong work/life balance by everyone involved.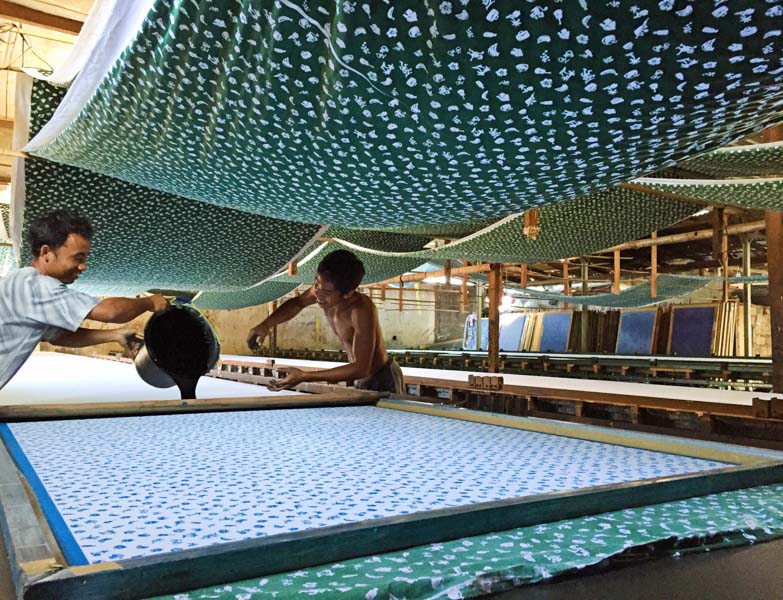 SWIM TRUNKS
How do I know my trunk size?
Our mid-length swim trunks are meant to fit and feel better than anything you've ever worn to a swim-up bar.
This size chart should help you find the right size so you can comfortably party underwater. If you find yourself on the fence between sizes, just order the smaller size for a slightly shorter, tighter fit and the larger size for a slightly longer, looser fit.
ORDERS
How long will it take to get my Kenny Flowers?
You can expect a smooth USPS delivery within 3-5 days and some great gear for your next adventure. If you need your order in a hurry, please select one of the expedited options during checkout and we'll take care of it from there.
Free shipping on orders over $100 – you order arrives 2-5 days from order for free.
3-5 Day First Class Shipping – your order arrives 3-5 days from order for $4.
Arrives in 2 Business Days – orders places before 2pm arrive in 2 business days for $12
Arrives Next Business Day – orders placed before 3pm EST arrive next business day for $20
We aim to ship your order out the same or next day. Orders placed before 2pm Eastern Time should get out the same day. Orders placed after 2:00pm Eastern Time will ship out the next business day. Since we're usually out enjoying the weekend too, you can expect orders made Saturday/Sunday to go out Monday.
You will be emailed a tracking number after your order has been shipped.
What is your return/exchange policy?
If your shirt isn't just the way you like it, we'll make things right best we can.
If you are not 100% happy, you can:
exchange your shirt for a new size/style
return your shirt for store credit
return your shirts for a full refund (own expense)
So long as:
the exchange/return is requested within 15 days of the shipping date
shirts are unworn, in the state you received them
Exchange shipping is always free. Return shipping is free up to $10 when for store credit and your own expense if you prefer a refund. We'll reimburse you once we have received the product and confirmed there are no cranberry vodka spills, cigar burns or lipstick kisses on it.
Note: We'll do our best to make sure you have a positive experience. If you're unnecessarily rude, we'll happily deduct a small handling fee from your refund and go grab a beer.
I want to order a lot of shirts for a really special occasion. Can I do that?
Dude yes. That's a brilliant idea. We've done it before for bachelor(ette) parties, groomsmen gifts, friendly reunions, group trips, family vacations and office Fridays alike. Whether you want the whole crew matching shirts, all unique shirts for unique partiers, or a few of a few different designs to spice things up, let's make it happen.
Shoot us an email at holla@kennyflowers.co and we'll make this event even more awesome. Special discounts available when you order 8+ shirts.

The shirt I want is sold out, what the heck do I do?  What happens when you sell out?
Each shirt is handmade in small batches.  Our factory in Bali is hard at work reproducing current styles and creating new shirts.  Shoot us an email so we can let you know when it's back. In the meantime, check out our 20+ other designs because it's perfectly acceptable to wear a different shirt each day of the week.
I live outside of the US. Can I still rock KF?
We love the idea of you rocking KF overseas. We offer international shipping so you can live your dream, wherever you are. Please note that any customs, duties, taxes, fees charged by foreign governments are your responsibility.
LIFESTYLE
What is the Global Garden?
The Global Garden is our way of sharing all the awesome places awesome people are wearing our (awesome) shirts. We hope it gets you pumped for your next adventures – be it a backyard BBQ in your hometown or a full-blown Croatia Yacht Week. We invite you to click around and envision living your dream here.
Note: Although we encourage, we are not responsible for any impulse flight purchases or conflicts with your boss if you overbook vacation days.
How do I get on the Global Garden?
If you want to get on the map, throw on a KF shirt, go do something awesome and submit your photos to: photos@kennyflowers.co
We also totally recommend tagging @kennyflowers_ in those Instagram shots of yours. Hashtags like #kennyflowers #shotswithKF are also cool to use.
Does Kenny really live with his grandma in Bali?
He claims it's only a part-time living arrangement but the answer is still yes.